The film we planned to show as our last of 2018 had to be changed. Vancouver filmmaker Elaine Briere needed more time to edit her new film. (You can now rent Dangerous Hope: Canada's Betrayal of Democracy in Haiti for $4.)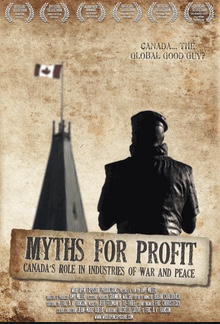 Instead, we chose to offer a related film by Montreal-based filmmaker Amy Miller about NATO and Canada's escalating misuse of our military. Myths for Profit depicts the historical context for Canada's gradual transition from altruistic peacekeeper to our current role as an active participant in unprovoked military aggression.
Why is Canada so eager to support the slaughter of civilians on the other side of the globe? Released in 2009, but it's just as relevant today as the Canadian government continues to approve massive increases to our military budget and ignore the human rights records of armaments client countries like Saudi Arabia.
Watching this film is free (like people everywhere just want to be). Scroll down the page at Wide Open Exposure to watch Amy Miller's eye-opening documentary about the hidden blood on Ottawa's hands.